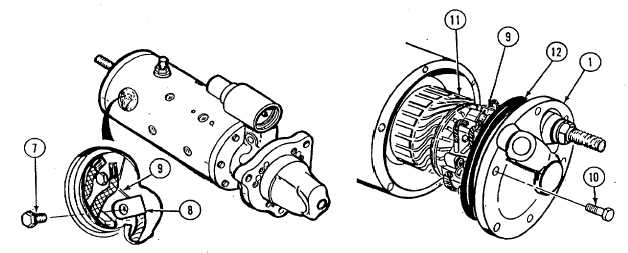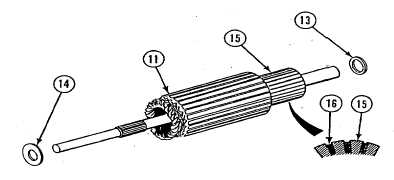 TM 5-4210-233-14&P-1
5-14.  STARTER REPAIR AND TESTING - Continued
(4)
Remove three screws (7) to disconnect three field leads (8) from brush holder (9).
(5)
Remove six screws (10), end cap (1), and brush holder (9).
NOTE
Armature may stay with end cap or in field frame.
(6)
Remove armature (11).
(7)
Remove preformed packing (12) from end cap (1).
(8)
Remove washer (13) and thrust washer (14) from armature (11).
WARNING
Death or serious injury could occur if compressed air is directed
against  the  skin.    Do  not  use  compressed  air  for  cleaning  or
drying  unless  the  pressure  is/has  been  reduced  to  30  psi  (2.11
kg/cm2) or less.  When working with compressed air, always use
chip    guards    eye    protection    and    other    personal    protective
equipment.
569