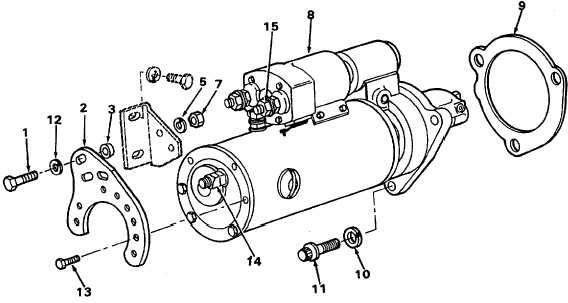 TM 5-4210-233-14&P-1
5-12.  STARTER MOTOR
This task covers:
a.
Removal
c.
Follow-on Maintenance
b.
Installation
TOOLS REQUIRED
EQUIPMENT CONDITION
Tool Kit, General Mechanics, Automotive
Engine Shutdown (see para 2-12.)
(Appendix B, Section 1II, Item 1)
APU Shutdown (see para 2-16.)
Batteries Disconnected (see para 4-114.)
MATERIALS/PARTS REQUIRED
Gasket (Figure 78, Appendix F)
a. Removal.
(1)
Tag and disconnect wires from starter ground terminal (14) and starter solenoid BAT terminal (15).
(2)
Support starter motor with a floor jack.
(3)
Remove two nuts (7), lockwashers (5), screws (1), flat washers (12) and spacers (3).
(4)
Remove three screws (11) and lockwashers (10) and lift starter (8) from flywheel housing.
(5)
Remove and discard gasket (9).
(6)  If necessary, remove three screws (13) and remove bracket (2) from starter motor.
5-62