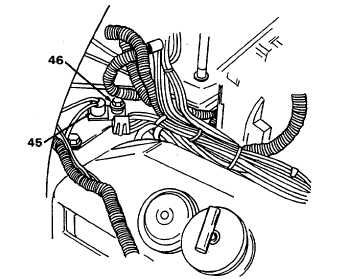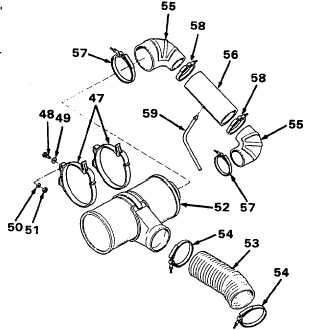 TM 5-4210-233-14&P-1
5-11.  ENGINE ASSEMBLY - Continued
(34)  Install ether start heat sensor (45) in thermostat housing at left front top of engine with bolt (46).
(35)  Put air cleaner clamps (47) in position and install hex head screws (48), flat washers (49) lock washers
(50) and nuts (51). (36) Install air cleaner (52) and tighten clamps (47)
(37)  Install flex hose (53) and tighten two clamps (54).
(38)  Install elbows (55) and air intake hose (56) between air cleaner and turbocharger. Install c
lamps (57
and 58).
(39)  Connect air cleaner indicator hose (59) to air intake tube (56).
NOTE
Plastic  tie-straps  should  be  used  as  needed  to  secure  loose
hoses, tubes and wiring. This should be done to prevent looses
items  from  being  caught  by  moving  parts,  and  also  to  prevent
chafing of parts due to vibration.
5-60