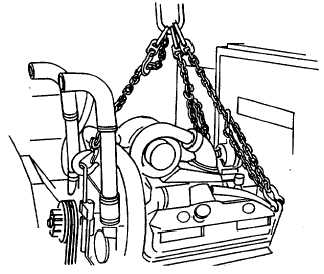 TM 5-4210-233-14&P-1
5-11.  ENGINE ASSEMBLY - Continued
b.
Installation
.
WARNING
Keep out from under engine when installing in vehicle. If engine
slips, sways or falls, serious injury or death may result.
CAUTION
Before   lifting   engine   completely   off   supports,   test   by   lifting
slightly  to  see  if  balanced.  If  engine  starts  to  tilt,  lower  engine
and   adjust   chain   lengths.   An   unbalanced   engine   may   swing
causing damage.
Make sure loose hoses and wires are secured and moved out of
way  so  they  do  not  snag  and  cause  damage  when  engine  is
lifted.
(1)
Install two new rubber biscuits (1) in frame cross member.
(2)  Connecting a suitable lifting device with a minimum capacity of 2 tons to the engine lift points. Lower
engine into truck through roof panel opening. Rest front mounting feet on frame cross-member. Leave
engine suspended until 24 transmission mounting bolts are installed.
5-51