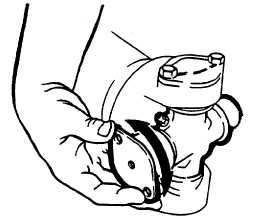 TM 5-4210-233-14&P-1
5-7.  DRIVE SHAFTS, UNIVERSAL JOINTS AND YOKES - Continued
e.
Cleaning
and
Inspection
.
(1)
Visually inspect exposed universal joint cross journals and needle bearings in bearing plates.  Look
for defects caused by lack of lubrication and physical damage.  If corrosion, pitting, universal wear or
missing bearing needles are evident, the universal joint must be replaced.
WARNING
Dry  cleaning  solvent  P-D-680  is  potentially  dangerous.    Avoid
repeated  and  prolonged  breathing  of  vapors  and  skin  contact
with the liquid.  Do not use near open flame, arcing equipment
or   other   ignition   sources.      Always   wear   eye   protection   and
protective  clothing.    The  flash  point  of  P-D-680  is  100  to  138
deg.  F (38 to 59 deg.  C).
(2)
Using dry cleaning solvent (Item 3, Appendix E) and a brush, wash universal joint crosses and yokes.
Do not attempt to disassemble or wash bearing plates.
WARNING
Death or serious injury could occur if compressed air is directed
against  the  skin.    Do  not  use  compressed  air  for  cleaning  or
drying  unless  the  pressure  is/has  been  reduced  to  30  psi  (2.11
kg/cm2) or less.  When working with compressed air, always use
chip   guards,   eye   protection   and   other   personal   protective
equipment.
(3)
After washing, dry the components using compressed air.
(4)
Apply a small amount of high temperature grease (Item 15, Appendix E) to each bearing plate needle
bearing.
(5)
Install  and  test  needle  bearings  on  cross  journals  as  shown.    The  movement  must  be  smooth  and
resistance free.
(6)
If any component is failing, the complete universal joint must be replaced.
5-32