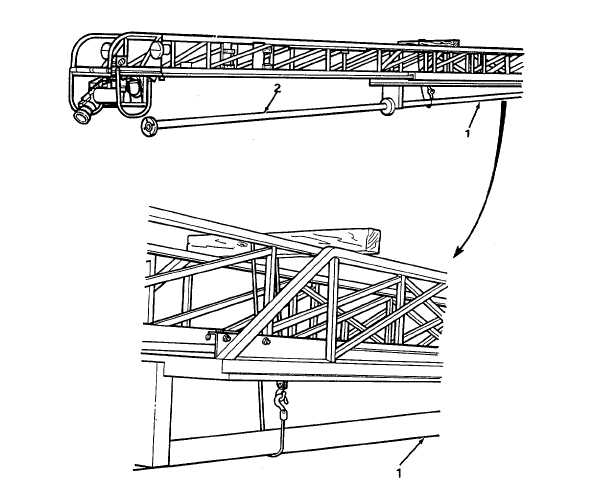 TM 5-4210-233-14&P-1
4-201.  AERIAL LADDER WATER PIPE ASSEMBLY
This task covers:
a.
Disassembly
c.
Assembly
b.
Cleaning and Inspection
d.
Follow-on Maintenance
TOOLS REQUIRED
PERSONNEL REQUIRED:  2
Tool Kit, General Mechanics, Automotive
(Appendix B, Section III, Item 1)
EQUIPMENT CONDITION
Aerial Waterway Drained (see para 2-3 .)
MATERIALS/PARTS REQUIRED
O-Rings (Figure 23, Appendix F)
Wear Pad Cup Seal (Figure 23, Appendix F)
Grease (Item 48, Appendix E)
a.
Removal
(1)
Fully extend ladder in a horizontal position at the
rear of the truck (see para 2-14).
(2)
Support section of pipe (1) that pipe (2) is being
removed from with cable or chain as shown.  Allow
several inches of slack in cable so pipe can drop
slightly.
4-505