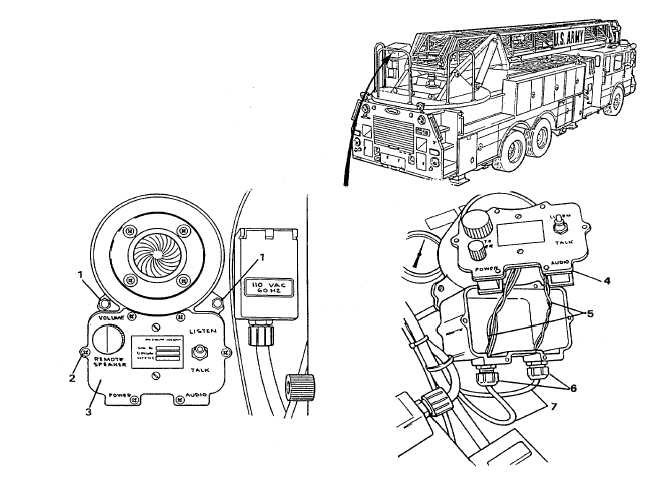 TM 5-4210-233-14&P-1
4-198.  AERIAL LADDER INTERCOM
THIS TASK COVERS:
a.
Removal of Base Unit
b.
Installation of Base Unit
c.
Removal of Laddertip Speaker
d.
Installation of Laddertip Speaker
e.
Follow-on Maintenance
TOOLS REQUIRED
EQUIPMENT CONDITION
Tool Kit, General Mechanics, Automotive
Main Engine Shutdown (see para 2-12.)
(Appendix B, Section III, Item 1)
APU Shutdown (see para 2-16.)
Batteries Disconnected (see para 4-114.)
MATERIALS/PARTS REQUIRED
Butt Splice Connectors (Item 27, Appendix E)
a.
Removal
of
Base
Unit
.
(1)   Remove two crown nuts (1) and remove two
screws and plastic washers (not shown) that
secure intercom assembly to control panel cover.
(2)   Remove six capscrews (2) with lockwashers
and remove cover (3) and gasket (4) from
intercom.
4-497