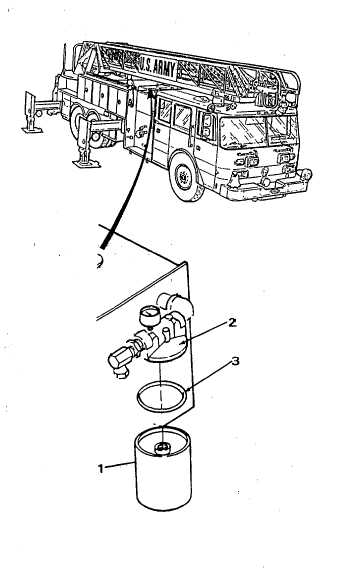 TM 5-4210-233-14&P-1
4-189.  HYDRAULIC TANK RETURN FILTER
THIS TASK COVERS:
a.
Service
TOOLS REQUIRED
EQUIPMENT CONDITION
Tool Kit, General Mechanics, Automotive
Main Engine Shutdown (see para 2-12.)
(Appendix B, Section 1iI, Item 1)
APU Shutdown (see para 2-16.)
Batteries Disconnected (see para 4-114.)
MATERIALS/PARTS REQUIRED
Hydraulic Oil (Item 28, Appendix E)
O-ring (Figure 197, Appendix F)
a.
Service
.
(1)   Remove filter (1) from filter head assembly (2).
Remove and discard O-ring (3).
(2)   Apply a thin coat of hydraulic oil (Item 28,
Appendix E) to new O-ring (3).
(3)   Install new filter (1) and O-ring (3) on filter head
assembly (2). Hand tighten filter 1/2 turn after
seal contacts filter head.
(4)   Operate aerial ladder hydraulic system (see
para 2-14) and check for filter leakage. Tighten
filter slightly if leakage until it ceases.
4-483