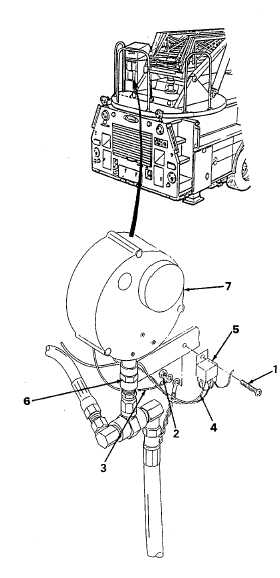 TM 5-4210-233-14&P-1
4-187.  PRESSURE SENSOR GAUGE
THIS TASK COVERS:
a.
Removal
c.
Installation
b.
Cleaning and Inspection
TOOLS REOUIRED
EQUIPMENT CONDITION
Too[ Kit, General Mechanics, Automotive
Main Engine Shutdown (see para 2-12.)
(Appendix B, Section III, Item 1)
APU Shutdown (see para 2-16.)
Batteries Disconnected (see para 4-114.)
MATERIALSIPARTS REQUIRED
Dry Cleaning Solvent (Item 3, Appendix E)
Pipe Sealant (Item 2, Appendix E)
a.
Removal
.
(1)   Remove screw (1) and nut (2) disconnecting white
ground wire (3) from central stand bracket.
(2)   Disconnect gauge black wire (4) from Bosch relay (5).
(3)   Use open end wrench to unscrew 1/2" coupler (6) and
remove coupler (6) and gauge (7) as an assembly from
control stand bracket.
b.
Cleaning
and
Inspection
.
WARNING
Dry   cleaning   solvent   P-D-680   is   potentially   dangerous.
Avoid repeated and prolonged breathing of vapors and skin
contact with the liquid. Do not use near open flame, arcing
equipment   or   other   ignition   sources.   Always   wear   eye
protection  and  protective  clothing.  The  flash  point  of  P-D-
680 is 100 to 138 deg F (30 to 50 deg. C).
(1)   Clean gauge with a shop cloth dampened in dry
cleaning solvent (Item 3, Appendix E)
WARNING
Death   or   serious   injury   could   occur   if   compressed   air   is
directed  against  the  skin.  Do  not  use  compressed  air  for
cleaning or drying unless the pressure is/has been reduced
to    30    psi    (2.11    kg/cm2)    or    less.    When    working    with
compressed air, always use chip guards, eye protection and
other personal protective equipment.
(2)   Dry gauge with compressed air.
4-480