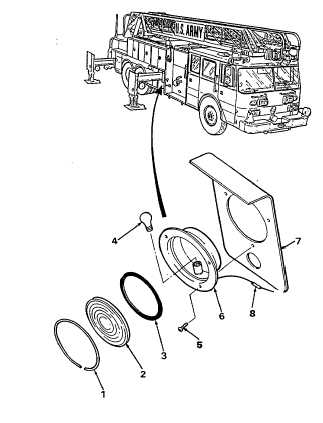 TM 5-4210-233-14&P-1
4-176.  OUTRIGGER COMPARTMENT LIGHTS
THIS TASK COVERS:
a.    Removal
c.
Installation
b.   Cleaning and Inspection
e.
Follow-on Maintenance
TOOLS REQUIRED
EQUIPMENT CONDITION
Tool Kit, General Mechanics, Automotive
Main Engine Shutdown (see para 2-12.)
(Appendix B, Section IlI, Item 1)
APU Shutdown 2-16.)
Batteries Disconnected (see para 4-114.)
MATERIALS/PARTS REQUIRED
Outriggers Extended (see para 2-14.)
Emery Cloth (Item 25, Appendix E)
Butt Splice (Item 27, Appendix E)
Gasket (Fig.  193, Appendix F)
a.
Removal
.
(1)   Remove lens retainer (1), lens (2) and gasket
(3).
(2)   Remove bulb (4).
(3)   Remove three screws (5) and remove
reflector (6) from bracket (7).
(4)   Tag and disconnect wiring harness by cutting
near butt splice (8).
(5)   Remove reflector (6).
b.
Cleaning
and
Inspection
.
(1)   Clean lens (2) and reflector (6).
(2)   Inspect lens for cracks.  If cracked, replace
lens.
(3)   Inspect for broken or cracked reflector.  If
reflector is damaged, replace light assembly.
(4)   Inspect wiring for fraying or cracked
insulation.  If wiring is damaged, contact
Direct Support Maintenance.
(5)   Inspect bulb socket, bulb contacts, and wiring
for corrosion.  Clean corrosion with emery
cloth (Item 25, Appendix E).  If corrosion
cannot be removed, replace light assembly.
4-463