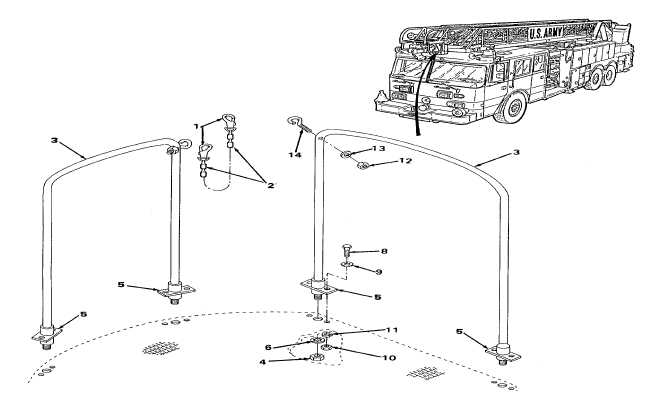 TM 5-4210-233-14&P-1
4-174.  SAFETY RAILINGS
THIS TASK COVERS:
a.  Removal
c.  Follow-on Maintenance.
b.  Installation
TOOLS REQUIRED
EQUIPMENT CONDITION
Tool Kit, General Mechanics, Automotive
Main Engine Shutdown (see para 2-12.)
(Appendix B, Section 111, Item 1)
APU Shutdown (see para 2-16.)
Batteries Disconnected (see para 4-114.)
MATERIALS/PARTS REQUIRED
Penetrating Oil (Item 8, Appendix E)
NOTE
All  three  railings  are  attached  with  the  same  attaching  parts  and  same
removal and installation procedures are used for each.
a.
Removal
.
(1)   Unclip safety chain snap (1) to remove
safety chain (2) from eyebolt (14) in
platform handrail (3) being removed.
(2)   Loosen two nuts (4) which attach
handrail (3) to platform.  Unscrew nuts
until they are flush with ends of handrail studs.
4-459