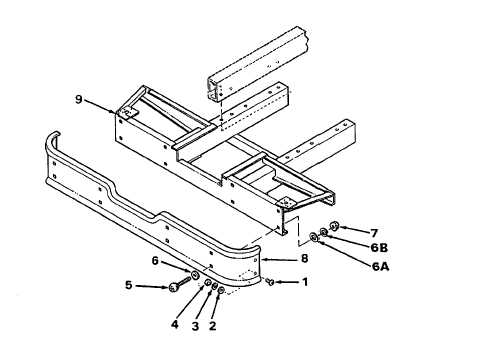 TM 5-4210-233-14&P-1
4-170. FRONT BUMPER
THIS TASK COVERS:
a.  Removal
c.  Follow-on Maintenance
b.  Installation
TOOLS REQUIRED
EQUIPMENT CONDITION
Tool Kit, General Mechanics, Automotive
Main Engine Shutdown (see para 2-12.)
(Appendix B, Section III, Item 1)
APU Shutdown (see para 2-16.)
Batteries Disconnected (see para 4-114.)
MATERIALSIPARTS REQUIRED
Penetrating Oil, Item 8, Appendix E
a.
Removal.
WARNING
Serious injury could occur if heavy equipment is moved/lifted without sufficient
personnel to do the job.  Use proper physical lifting procedures or use a suitable
lifting device or dolly.  Wear safety shoes, gloves and other suitable protective
clothing.  Area should be clear of other personnel.  Serious injury or death can
result from falling objects.
NOTE
If the bumper fasteners are excessively corroded, apply penetrating oil (Item 8,
Appendix E) to ease disassembly.
(1) Remove four screws (1), four flat washers (2), four lockwashers (3) and four hex nuts (4).
(2) Remove eight bolts (5), eight nylon washers (6), eight flatwashers (6A), eight lockwashers (6B) and
eight hex nuts (7) from bumper (8).
(3) Remove bumper (8).
4-454