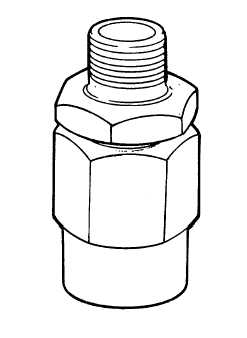 TM 5-4210-233-14&P-1
4-148.  IN-LINE SINGLE CHECK VALVES
THIS TASK COVERS:
a.
Removal
c.
Follow-on Maintenance
b.
Installation
TOOLS REQUIRED
EQUIPMENT CONDITION
Tool Kit, General Mechanics, Automotive
Main Engine Shutdown (see para 2-12 .)
(Appendix B, Section Ill, Item 1)
Batteries Disconnected (see para 4-114 .)
All Air Tanks Drained (see para 4-157 .)
a.
Removal.
NOTE
There are four in-line check valves located in the brake system.
Refer  to  air  schematics  in  Appendix  G.    One  check  valve  is
located  on  the  lower  tank  on  the  passenger  side  of  the  vehicle
(front service).  The valve is in-line on the forward line.  Another
check valve is located in-line on the air tank located in the rear
of   the   truck   above   the   fuel   tank   (isolated   emergency   spring
brake release tank) fed by a black pressure line.  The other two
are  located  on  the  top  tank  on  the  driver's  side  (rear  service).
There is one valve in-line on each end of the tank.
NOTE
Refer to the locator view in para 4-147 and the air schematics in
Appendix G.
(1)   Note direction of arrow on check valve body to
ensure correct installation.
(2)   Tag and disconnect air line at check valve.
(3)   Remove check valve.
b.
Installation.
(1)   Install check valve making certain that it is installed
correctly with respect to the desired air flow.  An
arrow indicating the direction of air flow is cast into
the body of the valve.
(2)   Install air line.
c.
Follow-on Maintenance.
(1)   Connect batteries (see para 4-114).
(2)   Check for leaks as described in para 4-147 .
4-423