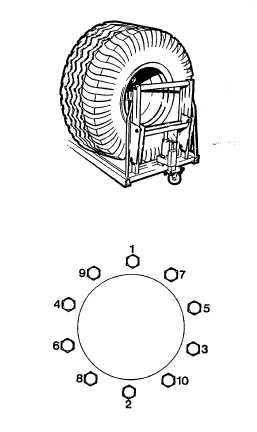 TM 5-4210-233-14&P-1
4-143.  TIRES AND RIMS - Continued
(2)   Mount wheel or inner dual wheel over studs.
Adjust height of wheel lift truck, so damage
does not occur to threads on studs.
(3)   Snug up nuts alternately in sequence shown.
DO NOT tighten them fully until they have
been seated.
CAUTION
Insufficient    mounting    torque    can    allow    wheel
movement  and  breakage  at  low  mileage.  Exces-
sive   mounting   torque   can   cause   stud   breakage,
bolt hole chamfer burns and disc cracks in the bolt
hole area.
(4)   Tighten nuts fully, using the same alternating
sequence. Torque nuts to 450-500 ft-lbs
(612-680 N.m).
(5)   Repeat steps 2-4 for outer dual wheel.
IMPORTANT
After the first 50 to 100 miles (80 to 160 km) of service, recheck
torque on wheel nuts, including inner cap nuts on duals. When
inner  cap  nuts  are  retighten,  be  sure  to  first  loosen  outer  cap
nuts several turns, tighten inner cap nuts and retighten outer cap
nuts. Reset to recommended torque levels.
(6)   Raise truck with hydraulic jack and remove jack stands.
(7)   Lower jack until truck is supported on its tires. Remove jack and chocks.
c.
Follow-on Maintenance.
(1)   Connect batteries (see para 4-114).
4-415