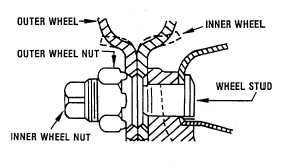 TM 5-4210-233-14&P-1
4-143.  TIRES AND RIMS
THIS TASK COVERS:
a.
Removal
c.
Follow-on Maintenance
b.
Installation
TOOLS REQUIRED
EQUIPMENT CONDITION
Tool Kit, General Mechanics, Automotive
Ladder in Transport Position (see para 2-12.)
(Appendix B, Section III, Item 1)
Main Engine Shutdown (see para 2-12.)
APU Shutdown (see para 2-16.)
Shop Equipment, Automotive
Batteries Disconnected (see para 4-114.)
Maintenance and Repair
(Appendix B, Section 1II, Item 4)
1 0 Ton Hydraulic Jack
Jack Stands
a.
Removal
.
WARNING
Wheel  and  tire  are  heavy;  257  lb  (1  17  kg).  To  avoid  personal
injury, use care when removing.
NOTE
Left-side   wheels   have   left-hand   nuts,   right-side   wheels   have
right-hand nuts. Correct nuts must be reinstalled.
(1)   Locate 10 ton hydraulic jack beneath axle just inboard of the wheel that is to be removed.
(2)   Apply truck parking brake and chock both wheels of other axle.
(3)   Raise jack until tire clears ground.
(4)   Adjust for proper height and place jack stand beneath axle. Lower jack until jack stand takes weight of
truck. Tire must be clear of ground when axle rests on jack stand. (If not, repeat steps 3 and 4 raising
jack stand by one notch until it is properly adjusted).
(5)   Using wheel brace or air operated wrench, remove wheel nuts completely and pull wheel off axle studs.
Take care not to damage stud threads. If necessary to remove inner sheel, remove inner wheel nuts.
(6)   Place wheel lift truck beneath wheel and attach safety chain.
b.
Installation
.
(1)   Check all parts for damage. Insure that
studs, nuts and mounting faces of hub
and wheels are sound, clean and free
from grease. Clean hub surface with
wire brush if scale is present. Replace
any damaged parts.
4-414