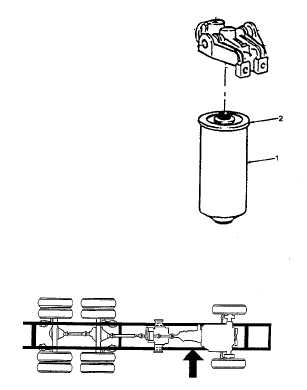 TM 5-4210-233-14&P-1
4-130.  FUEL FILTERS
This task covers:
a.
Removal
c.
Follow-on Maintenance
b.
Installation
TOOLS REQUIRED
EQUIPMENT CONDITION
Tool Kit, General Mechanics, Automotive
Main Engine Shutdown (see para 2-12.)
(Appendix B, Section III, Item 1)
APU Shutdown (see para 2-16.)
Batteries Disconnected (see para 4-114.)
MATERIALS/PARTS REQUIRED
Fuel Oil (Item 41, Appendix E)
a.
Removal
.
WARNING
JP is approved as an alternate fuel for this vehicle
in  emergency  situations.    JP-4  is  a  highly  volatile
fuel.    Extraordinary  care  must  be  taken  when  ser-
vicing  components  that  use  this  fuel.    The  truck
shall be grounded to an approved grounding point it
contains JP-4 fuel.
WARNING
Fuel is very flammable and can explode easily.  To
avoid serious injury or death, keep fuel away from
open   fire   and   keep   fire   extinguisher   within   easy
reach when working with fuel.  Do not work on fuel
system when engine is hot.  Fuel can be ignited by
hot engine.  When working with fuel, post signs that
read NO SMOKING WITHIN 50 FEET of vehicle.
NOTE
The  primary  and  secondary  engine  fuel  filters  are
mounted    along    with    the    transmission    filter,    to
bracket  on  the  front  right-hand  side  of  the  truck
frame next to the transmission.
(1)  Unscrew the filter cartridges (1) using a
filter removal tool.  Place suitable drain
container under filters.
(2)  Remove filter cartridges from the engine
and discard in a combustible waste area.
4-389