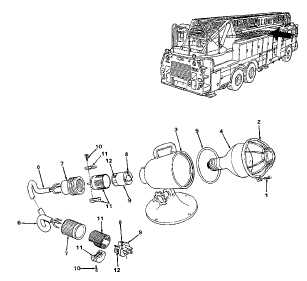 TM 5-4210-233-14&P-1
4-124.  PORTABLE WORK LIGHTS (110 VAC)
This task covers:
a.
Disassembly
c.
Assembly
b.
Cleaning and Inspection
TOOLS REQUIRED
EQUIPMENT CONDITION
Tool Kit, General Mechanics, Automotive
Main Engine Shutdown (see para 2-12.)
(Appendix B, Section III, Item 1)
APU Shutdown (see para 2-16.)
Batteries Disconnected (see para 4-114.)
MATERIALS/PARTS REQUIRED
Emery Cloth (Item 25, Appendix E)
a.
Disassembly
.
NOTE
Procedure to replace plug is same for plugs at each
end of cord.
(1)  Remove screw (1) and remove cage (2)
from lamp housing (3).
(2)  Remove bulb (4) and O-ring (5).
(3)  To service electrical cord (6) push rubber
skirt (7) along cord until clear of plug.
(4)  Loosen and remove three screws (8) on
plug (9).
(5)  Loosen two screws (10) and separate base
(11) from plug (9).
(6)  Tag wires and loosen three screws (12) and
remove wires from plug (9).
4-381