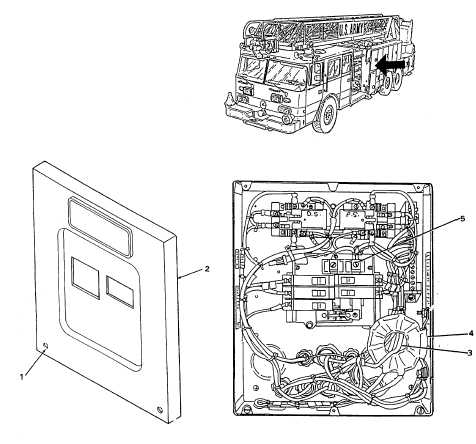 TM 5-4210-233-14&P-1
4-122.  CURRENT TRANSFORMER
This task covers:
a.
Removal
c.
Follow-on Maintenance
b.
Installation
TOOLS REQUIRED
EQUIPMENT CONDITION
Tool Kit, General Mechanics, Automotive
Main Engine Shutdown (see para 2-12.)
(Appendix B, Section III, Item 1)
APU Shutdown (see para 2-16.)
Batteries Disconnected (see para 4-114.)
MATERIALS/PARTS REQUIRED
Butt Splices (Item 27, Appendix E)
a
Removal
.
(1)  Remove two screws (1) and cover (2) from circuit breaker box.
(2)  Tag wire (3), that is looped through transformer (4).  Remove screw and disconnect wire (3) at terminal
(5).
4-377