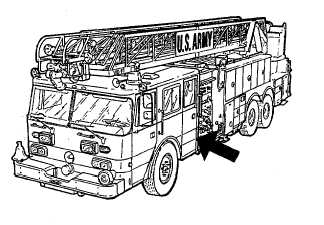 TM 5-4210-233-14&P-1
4-115.  BATTERY BOX ASSEMBLY
This task covers:
a.
Disassembly
c.
Assembly
b.
Cleaning and Inspectiond.
Follow-on Maintenance
TOOLS REQUIRED
EQUIPMENT CONDITION
Tool Kit, General Mechanics, Automotive
Main Engine Shutdown (see para 2-12.)
(Appendix B, Section 1II, Item 1)
APU Shutdown (see para 2-16.)
Batteries Disconnected (see para 4-114.)
MATERIAL/PARTS REQUIRED:
Emery Cloth, Item 25, Appendix E
Baking Soda (Item 5, Appendix E)
WARNING
Never    operate    welding    equipment    near    storage    batteries
Batteries  contain  explosive  mixtures  of  hydrogen  and  oxygen
gases in each cell at all times.  To avoid serious injury, always
wear  face  shield,  goggles,  safety  shoes,  gloves  and  protective
clothing   when   working   with   batteries.      Keep   sparks,   flames,
burning cigarettes or other ignition sources away at all times.
a.
Disassembly
.
(1)  Remove eight screws (1), lockwashers (2), and nuts (3) from hinge (4).
(2)  Remove hinge from panel (5) and truck body.
(3)  Remove eight screws (6), washer (7), and nut (8).
(4)  Remove hinge (9) from panels (5 and 10).
(5)  Remove four screws (11), lockwasher(12), and nut (13).
(6)  Remove latch (14).
(7)  Remove three screws (15), lockwasher (16), and nut (17).
(8)  Remove clip (18).
4-368