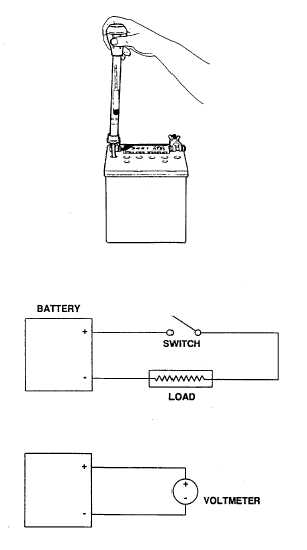 TM 5-4210-233-14&P-1
4-114.  BATTERIES
This task covers:
a.
Test
c.
Installation
b.
Removal
TOOLS REQUIRED:
PERSONNEL REQUIRED: 2
Tool Kit, General Mechanics, Automotive
(Appendix B, Section Ill, Item 1)
EQUIPMENT CONDITION
Hydrometer (Appendix B, Section Ill, Item 7)
Main Engine Shutdown (see para 2-12.)
APU Shutdown (see para 2-16.)
a.
Test
.
WARNING
Batteries   contain   sulfuric   acid.      They   may   also
contain explosive mixtures of hydrogen and oxygen
gases  in  each  cell  at  all  times.    To  avoid  serious
injury,   always   wear   face   shield,   goggles,   safety
shoes, gloves and protective clothing when working
with    batteries.        Keep    sparks,    flames,    burning
cigarettes   or   other   ignition   sources   away   at   all
times.
Do the following steps for each cell:
NOTE
Never  take  hydrometer  reading  immediately  after
water is added to cell.  Water must be mixed com-
pletely
with
electrolyte,
by
charging,
before
hydrometer readings are reliable.
Make   sure   hydrometer   barrel   and   float   are   not
cracked and that float is clean.  Draw in and expel
electrolyte   in   hydrometer   several   times   to   bring
hydrometer float and barrel to same temperature as
electrolyte.
(1)  Remove filler caps from battery.
(2)  Draw electrolyte into hydrometer until bulb
is fully expanded and float Iifts free.  Float
shouId    not    touch    side,    top    or    bottom
stopper of barrel.
(3)    Hold  hydrometer  with  surface  of  liquid  in
barrel at eye level.  Disregard curvature of
liquid   at   float   stem   and   barrel.      Read
specific gravity on float scale.
(4)  Compare reading to following table.  Fully
charged specific gravity of 1.265 corrected
to 80°F (26.7°C) is assumed.
4-364