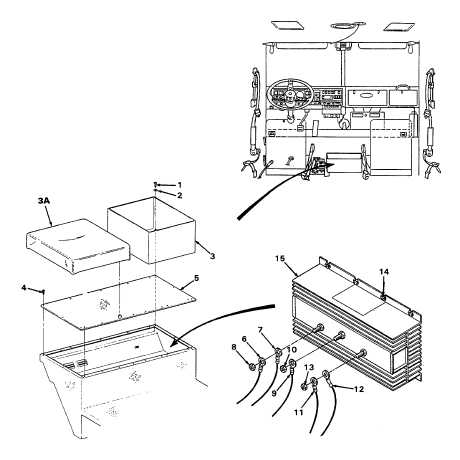 TM 5-4210-233-14&P-1
4-113.  BATTERY ISOLATOR
This task covers:
a.
Removal
c.
Follow-on Maintenance
b.
Installation
TOOLS REQUIRED:
EQUIPMENT CONDITION
Tool Kit, General Mechanics, Automotive
Main Engine Shutdown (see para 2-12.)
(Appendix B, Section III, Item 1)
APU Shutdown (see para 2-16.)
Batteries Disconnected (see para 4-114.)
a.
Removal
.
(1)   Remove eight screws (1), washers (2) and
remove storage box (3), and remove seat
cushion (3A).
(2)   Remove twelve screws (4) and remove plate
(5).
NOTE
Battery isolator is bolted to driver's side of com-
partment under communication box support plate.
4-362