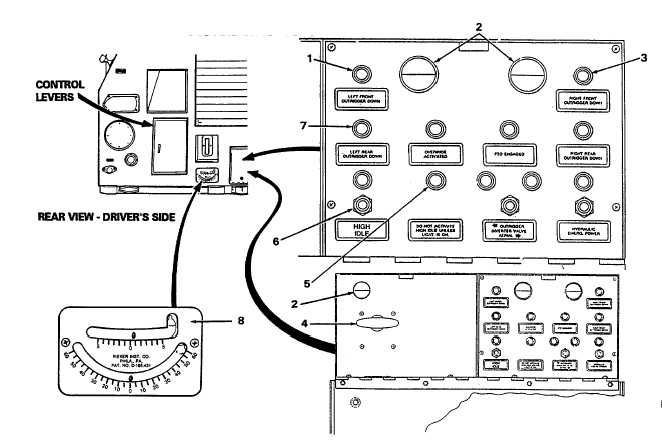 TM 5-4210-233-14&P-1
2-5.  OUTRIGGER CONTROLS AND INDICATORS
ITEM
CONTROL/INDICATOR
FUNCTION
1
LEFT FRONT OUTRIGGER
Indicates ieft front outrigger is supporting the weight of
DOWN Indicator Light (Green)
the truck.
2
Panel Lights
Illuminate outrigger control panel.
3
RIGHT FRONT OUTRIGGER
Indicates right front outrigger is supporting the weight of
DOWN Indicator Light (Green)
the truck.
4
Manual Diverter Valve Control
Pull T-handle to divert hydraulic power to either aerial
or outrigger modes. Use when electrically operated
diverter valve doesn't function.
5
DO NOT ACTIVATE HIGH IDLE
Indicates when high idle mode can be activated.
UNLESS LIGHT IS ON Warning Light
6
HIGH IDLE Switch and Indicator Light
Switches truck engine to high idle mode. Push toggle
switch up to engage, down to disengage. Light indicates
which truck engine is operating on high idle mode.
7
LEFT REAR OUTRIGGER
Indicates left rear outrigger is supporting the weight of the
DOWN Indicator Light
truck.
8
Angle Indicator
Indicates angle of truck tilt side-to-side. Used to aid in
leveling truck when setting outriggers.
2-20