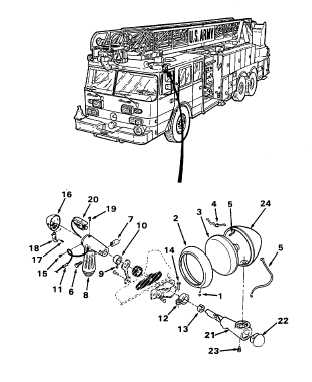 TM 5-4210-233-14&P-1
4-84.  CAB SPOTLIGHTS
This task covers:
a.
Disassembly
c.  Assembly
b.
Cleaning and Inspection
d.  Follow-on Maintenance
TOOLS REOUIRED
EQUIPMENT CONDITION
Tool Kit, General Mechanics, Automotive
Main Engine Shutdown (seepara 2-12.)
(Appendix B, Section III, Item 1)
Batteries Disconnected (see para 4-114.)
MATERIALS/PARTS REOUIRED
Emery Cloth (Item 25, Appendix E)
Butt Splice (Item 27, Appendix E)
Silicone Grease (Item 11, Appendix E)
NOTE
Driver's side spotlight is illustrated.
Passenger's side spotlight is identical except
components are reversed.
a.
Disassembly
.
(1)   To replace spotlight bulb, remove
screw (1) and ring (2).  Unscrew spotlight
bulb (3) from shell assembly (24).
(2)   Remove retaining springs (4)
attaching bulb (3) to ring (2) and
remove bulb (3).
(3)   Cutout splice (11) and discard.
NOTE
Be sure to cut as close as possible to splice
on both sides.  If splice is not accessible, cut
wire at least 2 in. (50 mm) away from
spotlight.
4-319