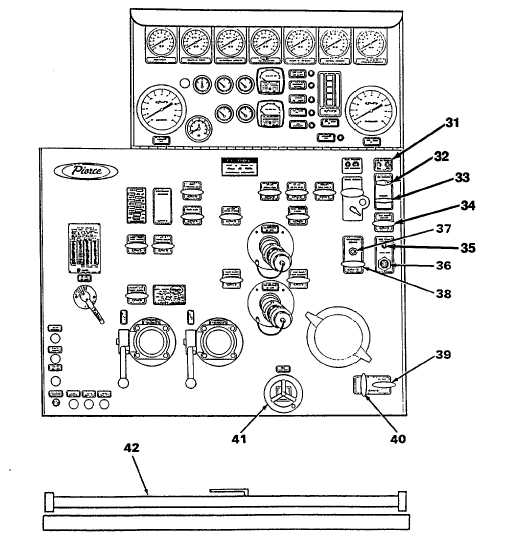 TM 5-4210-233-14&P-1
2-3.  DRIVER SIDE PUMP CONTROL PANEL - Continued
ITEM
CONTROL/INDICATOR
FUNCTION
31
TEST GAUGE Panel
Connections for testing vacuum and pressure gauges.
32
ENGINE COOLER
Opens and closes valve to circulate engine coolant
during pumping operations.
33
PRIMER Valve
Primes fire pump when valve handle is pulled out.
34
TANK DISCHARGE Valve
Controls flow of water from on-board tank into
pumping system.
35
Throttle Warning Light
Light MUST be ON before throttle is advanced.
36
THROTTLE Control
Controls truck engine speed from pump control panel.
37
RPM COUNTER Coupler
For attachment of external tachometer.
38
PUMP DRAIN Valve
Opens and closes valve to drain fire pump.
2-15