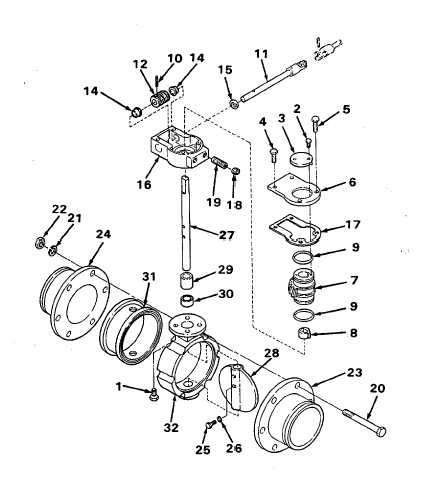 TM 5-4210-233-14&P-1
4-51.  FRONT SUCTION VALVE - Continued
b.
Disassembly
-
Gear
Box
.
(1)
Remove four screws (1) and lift gear housing (16) off of valve body (32).
(2)
Remove excess or loose paint, with wire brush, from top of gear housing.
(3)
Remove two screws (2) and remove indicator (3).
(4)
Remove two screws (4) and two screws (5) and remove gear housing cover (6) and gasket,(17).
Discard gasket.
(5)
Remove segment gear (7), stem adapter (8), and two O-rings (9).  Discard 0-rings.
CAUTION
To remove roll pin, drive pin out just past outer surface of
worm gear.  Then grind pin off until it is flush with the
surface of the gear.  Be careful not to damage gear while
grinding off pin.  Repeat procedure until pin can be
removed.
(6)
Remove roll pin (10).
(7)
Remove shaft (11), worm gear (12), and two bearings (14).
(8)
Remove and discard seal (15).
4-257