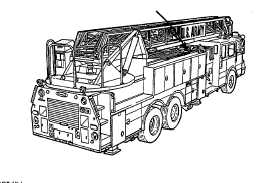 TM 5-4210-233-14&P-1
4-49.  TANK DISCHARGE VALVE
This task covers:
a.
Removal
d.
Assembly
b.
Disassembly
e.
Installation
c.
Cleaning and Inspection f.
Follow-on Maintenance
TOOLS REQUIRED
EQUIPMENT CONDITION
Tool Kit, General Mechanics, Automotive
Main Engine Shutdown (see para 2-12.)
(Appendix B, Section III, Item 1)
APU Shutdown (see para 2-16.)
Batteries Disconnected (see para 4-114.)
MATERIALS/PARTS REQUIRED
All Piping Drained (see para 2-17.)
Dry Cleaning Solvent (Item 3, Appendix E)
Grease, Silicone (Item 11, Appendix E)
Cotter Pin (Figure 19, Appendix F)
Repair Kit (Figure 20, Appendix F)
a.
Removal
NOTE
Access to Tank Discharge valve is gained
from beneath truck.  Grating from water tank
compartment must be removed.
(1)
Remove four screws (1) from foam tank
compartment grating (1A); remove grating.
(2)
Locate task discharge valve by operating tank
discharge valve handle on streetside
operator's panel.
(3)
Remove cotter pin (2) and retaining pin (3).
(4)
Remove control rod (4) and nylon washer (5).
(5)
Remove twelve bolts (6).
(6)
Remove valve (7) from between flanges (8).
(7)
Remove and discard two flange O-rings (9).
4-250