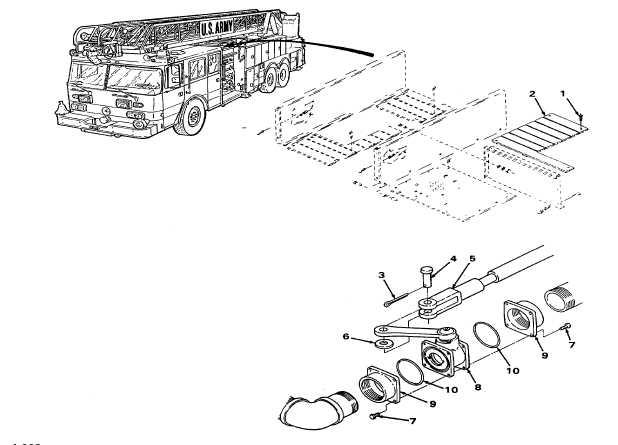 TM 5-4210-233-14&P-1
4-46.  TANK FILL AND RECIRCULATING VALVE
This task covers:
a.
Removal
d.
Assembly
b.
Disassembly
e.
Installation
c.
Cleaning and Inspection f.
Follow-on Maintenance
MATERIAL/PARTS REQUIRED:
EQUIPMENT CONDITION
Tool Kit, General Mechanics, Automotive
Main Engine Shutdown (see para 2-12 .)
(Appendix B, Section III, Item 1)
APU Shutdown (see para 2-16 .)
Batteries Disconnected (see para 4-114 .)
MATERIALS/PARTS REQUIRED
All Piping Drained (see para 2-17 .)
Dry Cleaning Solvent (Item 3, Appendix E)
Grease, Silicone (Item 11, Appendix E)
Repair Kit (Figure 12, Appendix F)
a.
Removal
(1)
Remove 4 screws (1) from foam tank
compartment grate (2); remove grate.
(2)
Locate tank fill and recirculating valve
by operating handle on streetside
operator's panel.
(3)
Remove cotter pin (3) and retaining pin (4).
4-238