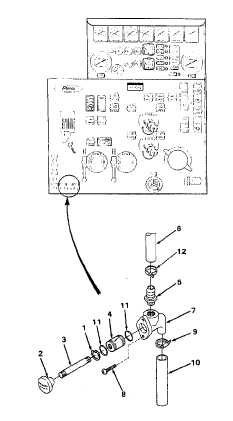 TM 5-4210-233-14&P-1
4-39.  #1, #2 AND AERIAL DISCHARGE DRAIN VALVES
This task covers:
a.
Removal
c.
Installation
b.
Cleaning and Inspectione.
Follow-on Maintenance
TOOLS REQUIRED
EQUIPMENT CONDITION
Tool Kit, General Mechanics, Automotive
Main Engine Shutdown (see para 2-12 .)
(Appendix B, Section III, Item 1)
APU Shutdown (see para 2-16 .)
Batteries Disconnected (see para 4-114 .)
MATERIALS/PARTS REQUIRED
Grease, Item 1, Appendix E
Dry Cleaning Solvent, Item 3, Appendix E
O-rings (Figure 18, Appendix F)
a.
Removal
.
(1)
Remove snap ring (1).
(2)
Remove knob (2), rod (3), and plunger (4) with
O-rings (11) as assembly.
(3)
Remove two screws (8) and remove valve body (7)
from panel.
(4)
Loosen hose clamp (9) and remove drain hose (10).
(5)
Turn valve body (7) until fitting(5) and hose (6)
with clamp (12) is free of valve body (7).
(6)
Remove and discard two 0-rings (11).
b.
Cleaning
and
Inspection
.
WARNING
Dry cleaning solvent P-D-680 is potentially
dangerous.  Avoid repeated and prolonged
breathing of vapors and skin contact with the
liquid.  Do not use near open flame, arcing
equipment or other ignition sources.  Always
wear eye protection and protective clothing.
The flash point of P-D-680 is 100 to 138 deg.
F (38 to 59 deg. C).
(1)
Clean all parts in dry cleaning solvent (Item 3, Appendix E).
4-210