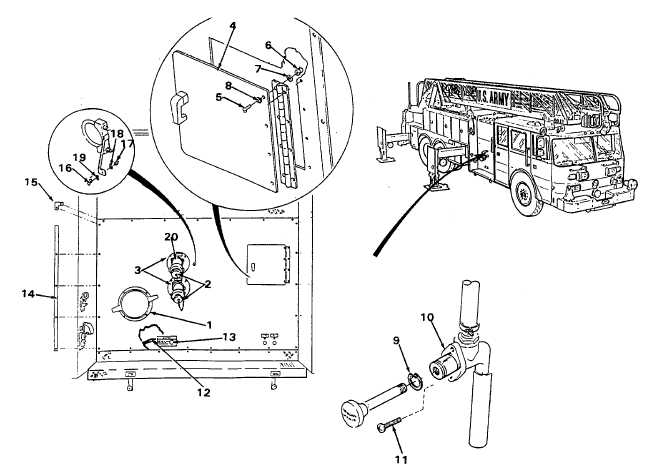 TM 5-4210-233-14&P-1
4-26. CURB SIDE OPERATOR'S PANEL
This task covers:
a.
Removal
c.
Follow-on Maintenance
b.
Installation
TOOLS REQUIRED
EQUIPMENT CONDITION
Tool Kit, General Mechanics, Automotive
Main Engine Shutdown (see para.  2-12.)
(Appendix B. Section Hi, Item 1)
APU Shutdown (see para.  2-16.)
Batteries Disconnected (see para.  4-114.)
a .   Removal
NOTE
Make provision for draining of water from suction and discharge lines.
(1)   Close (push forward) all T-handles for valves on street-side panel.
(2)   Remove 6-inch suction cap (1) and two 2-1/2 inch discharge caps (2).
(3)   Remove two 45° elbows (3).
(4)   Remove oil tank access door (4) by removing four screws (5), nuts (6), lock washers (7) and flat
washers (8).
4-190