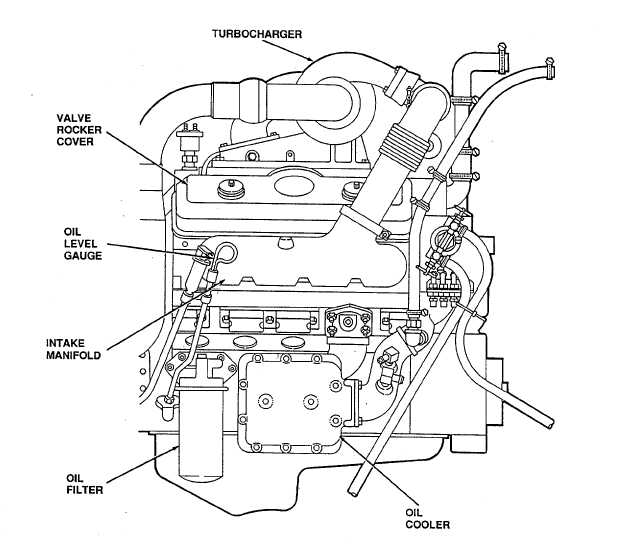 TM 5-4210-233-14&P-1
1-12.  ENGINE - Continued
(2)  The air system consists of the air cleaner, turbocharger compressor and engine blower.  The exhaust
system consists of exhaust piping, turbocharger turbine, muffler and spark arrestor.  The air cleaner is
mounted above and across the top of the engine.  Air is drawn through a plenum chamber mounted on
the radiator shroud.  The exhaust pipe is clamp-mounted to the turbocharger.  The spark arrestor and
muffler are mounted below the right side of the frame, suspended on a spring-loaded hanger brackets.
(3)  Air from the air cleaner is delivered to the compressor side of the turbocharger.  Exhaust gases spin
the turbine and compressor blades.  The compressed air enters the blower assembly and from the
blower assembly it is forced into the intake manifold.
(4)  Fuel from the primary fuel filter enters the fuel pump and is delivered through secondary fuel filter
to the fuel injectors.  The injectors pressurize and meter the diesel fuel and deliver it to the cylinders.
Figure 1-8.  Engine - Left Side View
1-16