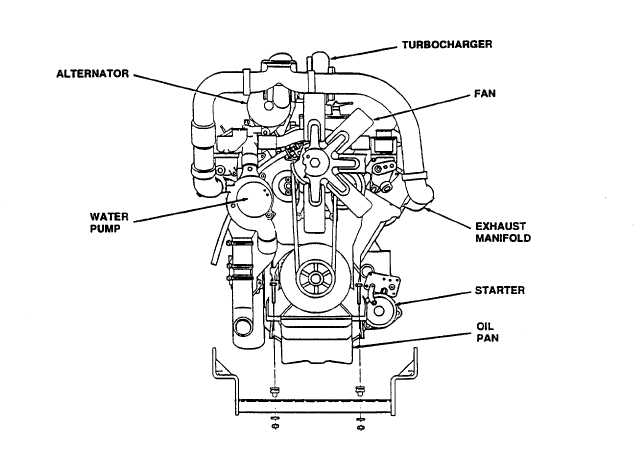 TM 5-4210-233-14&P-1
SECTION III.  TECHNICAL PRINCIPLES OF OPERATION
1-12.  ENGINE

.  The engine is an eight-cylinder, V-configuration, turbocharged, watercooled two-cycle diesel
engine. The engine develops 450 horsepower (336 kw) at 2100 rpm.  It is equipped with a 12 VDC electrical
system including an electric starter motor and a battery charging alternator.
a.  

 

Starting

 

System

.    The  starter  is  mounted  on  the  left  side  of  the  engine.    When  current  is  applied  to  the
starter, the starter rotates.  The starter pinion engages the flywheel ring gear and rotates the engine, allowing
the diesel fuel and air to enter the cylinders and start the engine.
Figure 1-7.  Engine - Front View
b.  Alternator

and

Charging

System

.  The alternator is mounted at the rear top of the engine and is belt driven.
The  12  VDC  system  consists  of  two  free  batteries  located  in  the  battery  compartments.    The  batteries  are
connected to a battery switch in the cab.
c.  

Fuel,

Air

Intake

and

Exhaust

Systems

.
(1)  The fuel system is comprised of a 65-gallon (246 l) fuel tank, 12 VDC electric priming pump, engine fuel
pump, primary and secondary fuel filters, and supply and return lines between the tank and engine.  The
fuel filters have replaceable filter elements.
1-15