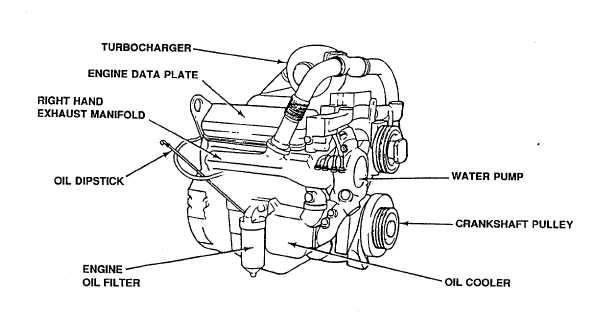 TM 5-4210-233-14&P-1
1-10.  LOCATION AND DESCRIPTION OF MAJOR COMPONENTS - Continued
c.  

Engine

.
(1)    The  truck  is  equipped  with  a  turbocharged,  V-configuration,  eight-cylinder,  water-cooled,  two-cycle
diesel engine.  The engine develops 450 horsepower (336 kw) at a governed speed of 2100 rpm.
(2)  Access  to  the  engine  oil  dipstick  can  be  gained  through  an  access  door  located  inside  the  curbside
passenger compartment of the cab.
Figure 1-4.  Truck Engine
d.  

Fuel,

Air

Intake,

and

Exhaust

Systems

.
(1) The fuel system includes: a sixty-five gallon (246 1) fuel tank, engine fuel pump, primary and secondary
fuel filters, and supply and return lines between fuel tank and engine.
(2) The air intake system includes: the air filter, turbocharger compressor, and engine blower.  The air filter
is mounted above the engine and connected to the turbocharger.
(3)  The  exhaust  system  includes:  exhaust  piping,  turbocharger  turbine,  muffler,  and  spark  arrester.    The
exhaust  pipe  is  mounted  to  the  turbocharger.    The  spark  arrestor  and  the  muffler  are  mounted  to  the
frame with hanger brackets.
1-7