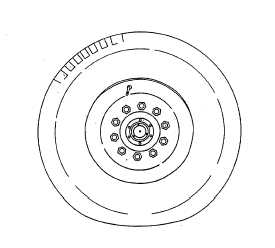 TM 5-4210-233-14&P-1
3-7.  TIRES AND RIMS
This task covers:
Service
EQUIPMENT CONDITION
Main Engine Shutdown (see para 2-12 .)
APU Shutdown (see para 2-16 .)
Service.
(a)
Check tire pressure.
NOTE
Proper tire pressure is 130 psi (175 kPa) (front) and 110 psi (148
kPa) (rear).
(b)
Add or remove air from tires as needed.
(c)
Check tire tread for rocks, nails, etc.
(d)
Remove debris from tire tread.
(e)
Clean rims with wire brush if scale is present.
3-27