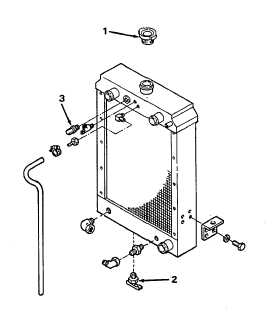 TM 5-4210-233-14&P-1
3-6.  RADIATOR/COOLING SYSTEM
This task covers:
Service
MATERIAL/PARTS REQUIRED
Antifreeze, Permanent, Item 29, Appendix E
EQUIPMENT CONDITION
Main Engine Shutdown (para 2-12 .)
APU Shutdown (para 2-16 .)
Batteries Disconnected (para 4-114 .)
Engine Enclosure Covers Open
Service.
CAUTION
Never put coolant in a hot engine.  The engine block or cylinder
head can be cracked due to difference in temperature between
engine block or cylinder head and coolant.
Add coolant to radiator only when engine is stopped or idling.
NOTE
Clean  cooling  system  every  2000  hours  of  operation  or  once
every  year.  in  areas  where  water  has  a  high  mineral  content,
clean cooling system more frequently.
(a)
Operate vehicle until engine is warm. Park vehicle on level surface, apply parking brake, and
shut down engine.
WARNING
To  remove  radiator  cap  when  engine  is  hot,
turn radiator cap slowly with a glove or rag to
first  stop  position  to  relieve  pressure  before
removing cap.  This will prevent painful bums.
(b)
Using a glove or rag to prevent burns, slowly
turn   radiator   cap   (1)
counterclockwise to first
stop position to relieve system pressure, and
after  system  pressure
is safely relieved
remove radiator cap (1).
NOTE
Cooling system has a capacity of 13.8 gallons (52I)
(c)
Open radiator drain cock (2) and drain coolant
into
suitable
container.
3-25