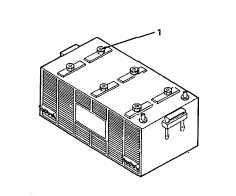 TM 5-4210-233-14&P-1
3-5.  BATTERIES
This task covers:
a.   Inspection
b.   Service
MATERIAL/PARTS REQUIRED:
EQUIPMENT CONDITION
Distilled Water (Item 54, Appendix E)
Main Engine Shutdown (see para 2-12 .)
APU Shutdown (see para 2-16 .)
a.
Inspection
.
WARNING
Batteries contain sulfuric acid.  They may also contain explosive
mixtures of hydrogen and oxygen gases in each cell at all times.
To   avoid   serious   injury,   

always

  wear   face   shield,   goggles,
safety shoes, gloves and protective clothing when working with
batteries.   Keep   sparks,   flames,   burning   cigarettes   or   other
ignition sources away at all times.
(1)
Visually inspect outside of battery for cracked or broken case cover, damaged or missing filler caps and
terminal damage.
(2)
Check  condition  of  battery  cables.  Inspect  for  corrosion  on  battery  terminals  and  cable  terminations.
Clean minor corrosion off terminals and cable terminations using scraper and terminal cleaning
brush.
(3)
Make sure ground cable makes good connection at ground point, and check cable connections at starter
relay and solenoid.  Tighten if necessary.
(4)
Make sure holddown bar secures battery properly.  Tighten
if necessary.
(5)
If there is serious physical damage, refer to Unit
Maintenance.
b.
Service
.  Check Electrolyte Levels.
NOTE
Check electrolyte level weekly.  Water loss occurring at above
normal rate indicates short circuit.
(1)   Remove filler caps (1) from battery.
(2)   Check electrolyte level in each cell.  If electrolyte is below tops of plates in any cell, fill all cells with
water to just above tops of separators.  Use distilledwater (Item 54, Appendix E).
(3)   Install filler caps (1).
3-24