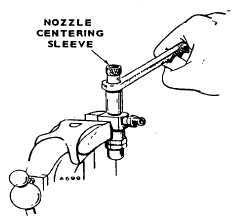 TM 5-4210-233-14&P-1
5-77.  APU INJECTION NOZZLE - Continued
c.
Cleaning
.
(1)
Soak  each  nozzle  in  solvent  (Item  3,  Appendix  E)
fuel  to  loosen  dirt.    Then  clean  the  inside  with  a
small strip of wood soaked in oil (Item 10, Appendix
E)   and   the   spray   hole   with   a   wood   splinter.      If
necessary,  clean  the  outer  surfaces  of  the  nozzle
body   with   a   brass   brush,   but   do   not   attempt   to
scrape  carbon  from  the  nozzle  surfaces.    This  can
severely  damage  the  spray  hole.    Use  a  soft  oil-
soaked  rag  or  mutton  tallow  and  felt  to  clean  the
nozzle valve.  Use nozzle cleaning kit (Appendix B,
Section III, Item 92).
d.
Assembly
.
(1)
Rinse both the valve and nozzle thoroughly before assembly and coat with oil (Item 10, Appendix
E). The valve must be free in the nozzle.  Lift it about 1/3 out of the body.  It should slide back to its
seat  without  aid  when  the  assembly  is  held  at  a  45°  angle.    If  necessary,  work  the  valve  into  its
body with clean mutton tallow.
(2)
Remove all pressure on the nozzle spring by adjusting the pressure adjusting screw.
(3)
Clamp the nozzle holder body in a vise.
(4)
Set the valve in the body and set the nozzle over it.
(5)
Install the nozzle cap nut loosely.
(6)
Place the centering sleeve over the nozzle for initial tightening.  Then remove the centering sleeve
to prevent it from binding between nozzle and cap nut and tighten the nozzle cap nut to 50-55 ft Ibs
(68 to 74 N.m).
e.
Adjustment
.
(1)
Remove  cap  nut  over  the  adjusting  screw  of  the  nozzle  and  install  the  nozzle  on  a  static  free
nozzle tester (Appendix B, Section III, Item 91).
(2)
Adjust the opening pressure to 1,750 psi (12,058 kPa) by turning the adjusting screw.
f.
Installation
.
(1)
Assemble three new gaskets (9, 10, 11) and shield (1 2) on nozzle (7) and install in holder (8).
(2)
Install  nozzle  and  holder  (5)  with  flange  (4),  two  flatwashers  (3),  and  two  capscrews  (2).    Torque
capscrews to 20-21 ft Ibs (28-29 N.m).
(3)
Install two fuel lines (1 and 2) on nozzle and holder (5) and pump (6).
(4)
Install nozzle cover, housing cover, four capscrews and four lockwashers.
(5)
Install air housing door and secure with door screw.
g.
Follow
-
on
Maintenance
.
(1)
Connect batteries (see para 4-114).
5-401