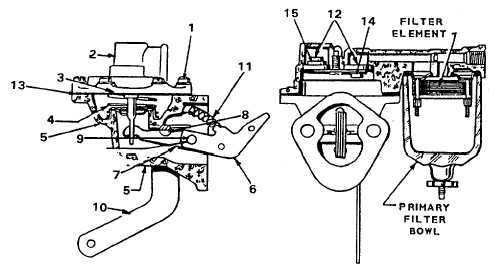 TM 5-4210-233-14&P-1
5-75.  APU FUEL TRANSFER PUMP
This task covers:
a.
Removal
c.
Installation
b.
Repair
d.
Follow-on Maintenance
TOOLS REOUIRED
EQUIPMENT CONDITION
Tool Kit, General Mechanics, Automotive
APU Fuel Transfer Pump Removed
(Appendix B, Section 1II, Item 1)
(see para 4-216.)
MATERIALS/PARTS REQUIRED
Dry Cleaning Solvent (Item 3, Appendix E)
a.
Removal
.
(1)
Notch  the  pump  cover  and  body  with  a  file  so  they  can  be  reassembled  in  the  same  relative
positions and remove the six screws (1) to remove top cover (2).
(2)
Tap  the  body  with  a  screwdriver  to  separate  the  two  parts.    Do  not  pry  them  apart;  this  would
damage the diaphragm (3).
(3)
Lift out the diaphragm assembly (3) and diaphragm spring (4).
5-395