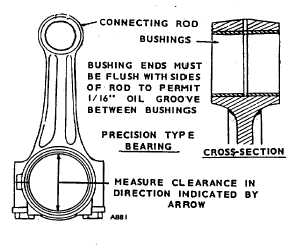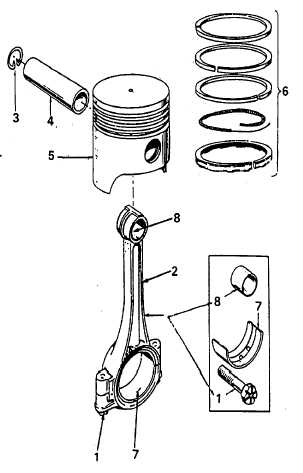 TM 5-4210-233-14&P-1
5-74.  APU PISTONS, RINGS AND CONNECTING RODS - Continued
(7)
Clean    the    connecting    rod    and    check    for
defects.    Check  the  connecting  rod  bushing
for    proper    clearance    with    the    piston    pin.
Clearance  should  be  .0002  in.    to  .0007  in.
(.0051 to .0178 mm).
(8)
If  the  bushings  are  excessively  worn,  press
them out and press one new bushing in from
each side of the bushing bore.  Press the new
bushings only until flush with the sides of the
rod  to  leave  1/16  in.    to  7/64  in.  (1.6  to  2.8
mm) oil groove in the center.
(9)
Inspect   the   connecting   rod   bearings   for   burrs,
breaks, pits and wear.  Measure the clearance
between  bearings  and  the  crankshaft  journal.
The clearance should be .001 in.  to .0033 in.
(.0254 to .0838 mm).  If necessary, place with
new standard or oversize precision bearings.
c.
Installation
.
(1)
Install the connecting rod (2) in the piston (5)
with the pin (4) and retaining rings (3).  If new
bushings (8) were installed, make certain the
ends   are   flush   with   the   connecting   rod   to
provide for the oil recess in the center.
(2)
Using a ring expander, install the rings (6) on
the  piston  (5).    Rings  (6)  will  be  marked  top,
or  identified  in  some  other  manner.    Place
this mark toward the closed end of the piston
(5). Space the ring gaps one fourth of the way
around the piston from one another.  No gap
should be in line with the piston pin.  Oil (Item
10, Appendix E) the rings and piston.  Gap in
oil ring expander must be approximately 1800
from gap in oil ring.
(3)
Position  a  bearing  half  (7)  in  the  connecting
rod  (2).    Be  sure  there  is  not  dirt  under  the
bearing.      This   could   cause   high   spots   and
early bearing failure.
(4)
Oil  the  cylinder  wall.    Install  the  piston  and  rod
assembly   in   the   cylinder,   using   a   suitable
installer.    The  assembly  should  be  installed
with   the   stamp   on   the   piston   facing   in   the
same direction as when removed.  The notch
on  the  piston  should  be  towards  the  front  of
the engine.
5-393