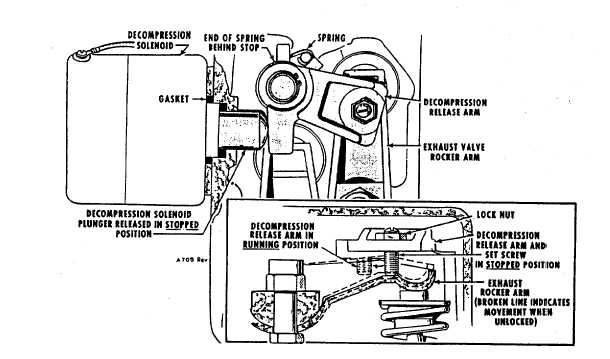 TM 5-4210-233-14&P-1
5-73.  DECOMPRESSION RELEASE - Continued
c.
Adjustment
.
CAUTION
If  the  screw  is  tightened  more  than  1  turn,  the  exhaust  valve
could hit the piston.
(1)
With  the  piston  10°  to  450°  past  TDC  on  the  power  stroke,  hold  the  arm  in  the  decompression
position (tension against spring).  Loosen the lock nut and turn the set screw so it just touches the
exhaust rocker arm.  The release arm must be tight against the snap ring during adjustment.  Then
turn  the  screw  exactly  one  revolution  clockwise.    Original  factory  setting  marked  with  white  or
yellow paint.
(2)
Hold the set screw and lock it in position with the lock nut.  Turn the nut hand tight plus 1/4 to 1/2
turn to lock the mechanism.
(3)
Release the mechanism to allow compression.  Check the clearance between the screw and rocker
arm.  Insert a feeler gauge between valve and rocker arm to take up valve clearance for this check.
If there is no clearance, back off the set screw until it just clears the rocker arm.
(4)
When  reassembling  the  rocker  cover,  remove  the  solenoid,  dip  the  plunger  O-ring  in  oil  and
reinstall when cover is on the engine.  Align solenoid so terminal "SW" is above terminal "IGN".
d.
Follow
-
on
Maintenance
.
(1)
Connect batteries (see para 4-114).
5-390