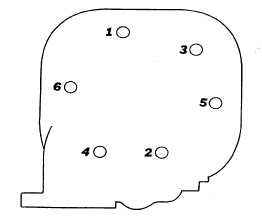 TM 5-4210-233-14&P-1
5-72.  APU CYLINDER HEAD - Continued
(7)
Thoroughly  clean  the  valve  seat  counterbore  and  remove  any  burrs  from  the  edges.    If  the
counterbore  is  damaged,  it  will  have  to  be  remachined  for  an  oversize  seat.   Oversize  seats  are
available in .002 in.  (.051 mm), .005 in.  (.127 mm), .010 in.  (.254 mm) and .025 in.  (.635 mm).
Otherwise, install new standard-size seat inserts.
(8)
Drive the new valve seat inserts into place.  Be certain that each seat rests solidly on the bottom of
the  counterbore  at  all  points.    To  make  installation  easier,  heat  the  cylinder  head  in  an  oven  at
325°F (1 63 ºC) for about 30 minutes and cool the valve seats in dry ice.
(9)
Face each new seat to a 450 angle and width of 3/64 in. to 1/16 in. (1.19 to 1.59 mm).  The finished
seat face should contact approximately center of the valve face.  Use Marking Compound (Item 56,
Appendix  E)  on  each  valve  face  to  check  this.    Make  any  corrections  to  the  seat,  not  the  valve
face.
(10)
When  the  new  seats  are  installed  and  faced,  insert  the  valve  into  each  and  check  the  clearance
from valve head to the face of the cylinder head.  This must be at least .030 in.  (.762 mm).  If it is
not, regrind the seat.
(11)
Check the valve springs on an accurate compression scale.  The valve spring load should register
45-49 Ibs.  (20-22 kg) closed; 83-93 Ibs.  (38-42 kg) open.  Replace any weak, cracked or pitted
spring, or one that has out-of-square ends.
c.
Installation
.
(1)
Push a valve stem oil sea[ (23) onto the intake valve guide (24) and clamp in place.  Then oil (Item
10, Appendix E) the inside surface of the seal (15).
(2)
Oil (Item 1 0, Appendix E) the stem of each valve (25) lightly and insert into its own guide (24).
(3)
Check each valve (25) for a tight seat with an air pressure type tester.  If a tester is not available,
use marking compound (Item 56, Appendix E) or make pencil marks at intervals on the valve face
and observe if the marks rub off uniformly when the valve is rotated part of a turn in the seat.
If the
seat is not tight, regrind the valves.
(4)
Using  a  valve  spring  compressor,  compress  each  valve  spring  (22)  and  insert  the  valve  spring
retainer (21) and retainer locks (20).
(5)
Install the head assembly (8) and gasket (8A) to the cylinder block.  Tighten the head bolts (5 and
6) evenly to 44 to 46 ft. Ibs (60 to 62 N•m) in the proper sequence.
5-387