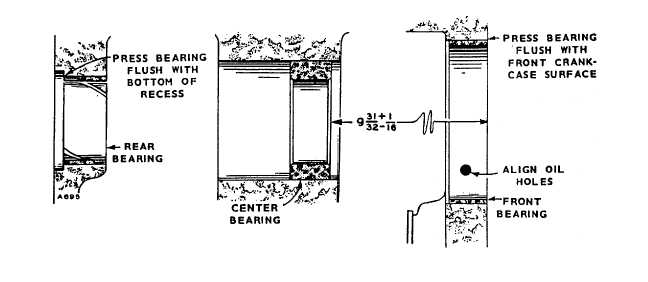 TM 5-4210-233-14&P-1
5-70.  APU CAMSHAFT, GEAR AND BEARINGS - Continued
b.
Inspection
.
WARNING
·
Dry cleaning solvent P-D-680 (safety or Stoddard's solvent)
is   potentially   dangerous.   Avoid   repeated   and   prolonged
breathing of vapors and skin contact with the liquid. Do not
use   near   open   flame,   arcing   equipment   or   other   ignition
sources. Always wear eye protection and protective clothing.
The  flash  point  of  P-D-680  is  100  to  138  deg.  F  (38  to  59
deg. C).
·
Death   or   serious   injury   could   occur   if   compressed   air   is
directed  against  the  skin.  Do  not  use  compressed  air  for
cleaning or drying unless the pressure is/has been reduced
to   30   psi   (2.1   1   kg/cm?)   or   less.   When   working   with
compressed air always use chip guards, eye protection, and
other personal protective equipment.
(1)   Clean camshaft exterior with dry cleaning solvent (Item 3, Appendix E) and dry using compressed air,
inspect for damage.
(2)   Clean and inspect front, center, and rear camshaft bearings. If bearings show cracks, breaks, burrs, or
excessive wear, they must be replaced. Camshaft-to-bearing clearance should be .0012 to .0037 in.
(.030 to .094 mm). To check rear camshaft bearing, remove expansion plug at rear of crankcase.
c.
Installation
.
(1)   Press new bearings (if required) into place as shown.
5-377