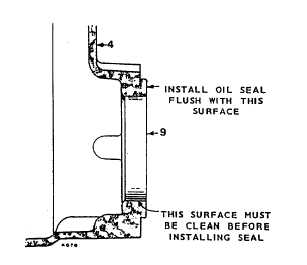 TM 5-4210-233-14&P-1
5-66.  APU GENERATOR-Continued
b.
Installation
.
(1)   Using  an  oil  seal  driver  insert  a  new  oil
seal (9) from the inside with a rubber lip
toward  outside  of  gear  cover  (4)  (open
side  of  seal  inward)  and  drive  it  flush
with the outside surface.
(2)   Press   new   bearings   (7   and   8)   and   oil
seal (11) into place.
(3)   Work the governor shaft (6) to check for
bending and see that the thrust ball (1) is
in place.