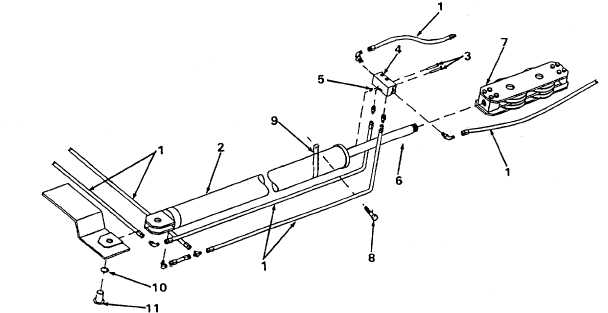 TM 5-4210-233-14&P-1
5-65.  REAR EXTENSION/RETRACTION CYLINDER
This task covers:
a.
Removal
c.  Follow-on Maintenance
b.
Installation
TOOLS REQUIRED
PERSONNEL REQUIRED:

2
Tool Kit, General Mechanics, Automotive
(Appendix B, Section 111, Item 1)
EQUIPMENT CONDITION
Ladder Extended (see para 2-14.)
MATERIALSIPARTS REQUIRED
Main Engine Shutdown (see para 2-12.)
Retaining Compound (Item 7, Appendix E)
APU Shutdown (see para 2-16.)
O-ring (Figure 188, Appendix E)
a.
Removal
.
WARNING
Ladder  must  be  in  horizontal  position  to  prevent  movement  of
ladder when cylinder is removed.
(1)
Move ladder so that it is extended about half way and in a horizontal position at the rear of the truck.
NOTE
Obtain suitable container to catch hydraulic oil that drains from
cylinder.
(2)
Remove hydraulic lines (1) from cylinder (2).
5-362