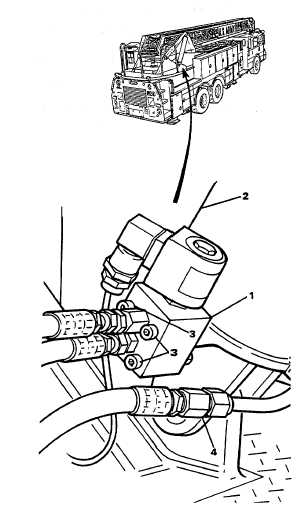 TM 5-4210-233-14&P-1
5-51.  HOIST CYLINDERS
This task covers:
a.
Removal
b.
Installation
TOOLS REQUIRED:
EQUIPMENT CONDITION
Tool Kit, General Mechanics, Automotive
Main Engine Shutdown (see para 2-12.)
(Appendix B, Section 1II, Item 1)
APU Shutdown (see para 2-16.)
Ladder Bedded (see para 2-14.)
MATERIALS/PARTS REQUIRED
Tags, Identification (Item 32, Appendix E)
O-rings (Figure 172, Appendix F)
a.
Removal
.
WARNING
Escaping   fluid   under   pressure   can   penetrate   the
skin    causing    serious    injury.        Relieve    pressure
before  unhooking  hydraulic  or  other  lines.  Tighten
all   connections   before   applying   pressure.      Keep
hands and body away from pin- holes and nozzles
which eject fluids under high pressure.  Use a piece
of cardboard to search for leaks.
If  ANY  fluid  is  injected  into  the  skin,  it  must  be
surgically  removed  within  a  few  hours  by  a  doctor
familiar with this type injury or gangrene may result.
(1)  Relieve pressure from hoist cylinder by:
a.
Moving battery switch to position 1
or 2.
b.
Turn aerial master ON.
c.
Move manual diverter valve to
AERIAL position.
d.
Move RUN/LOCK lever to RUN
position.
e.
Move RAISE/LOWER handle fore
and aft.
f.
Move battery switch and aerial
master switch to OFF position.
(2)  Remove block (1) from hoist cylinder (2) by
removing three screws (3).  Remove and
discard O-ring between block (1) and
cylinder (2).
(3)  Tag and remove hose(4).
(4)  Attach a suitable lifting device to cylinder.
5-335