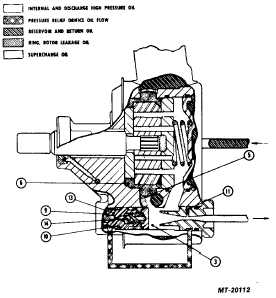 TM 5-4210-230-14&P-1
TRUCK SERVICE MANUAL
STEERING
The    pressure    unbalance    then    causes    the    valve    to
compress the spring (10) allowing the major portion of the oil
to bypass into the intake chamber (from 3 to 6) in the same
manner    as    is    accomplished    by    flow    controlling.        Relief
pressures   are   usually   between   5170   and   9995   kilopascals
(750 and 1450 PSI) depending on the vehicle requirements.
Fig. 6 Pressure Relief
MAINTENANCE
FLUID LEVEL
1.
Run  engine  until  power  steering  fluid  reaches  normal
operating   temperature,   approximately   80°C   (170°F),
then  shut  engine  off.    Remove  reservoir  filler  cap  and
check oil level.
2.
If  oil  level  is  low,  add  power  steering  fluid  to  proper
level  and  replace  filler  cap.    For  lubrication  intervals
refer    to    operator's    manual.    For    types    of    lubricant
recommended refer to Lubrication Section CTS-2412.
3.
When checking fluid level after the steering system has
been   serviced,   air   must   be   bled   from   the   system.
Proceed as follows:
a.
With wheels turned all the way to the left, add power
steering fluid to level indicated on reservoir.
b.
Start  engine,  and  running  at  fast  idle,  recheck  fluid
level.  Add fluid if necessary.
c.
Bleed  system  by  turning  wheels  from  side  to  side
without hitting stops.  Maintain fluid level just above
internal pump casting.  Fluid with air in it will have a
light  tan  or  milky  appearance.    This  air  must  be
eliminated  from  fluid  before  normal  steering  action
can be obtained.
d.
Return wheels to center position and continue to run
engine  for  two  or  three  minutes,  then  shut  engine
off.
e.
Road-test  vehicle  to  make  sure  steering  functions
normally and is free from noise.
f.
Recheck fluid level as described insteps 1 and 2.
BELT TENSION
A belt that has been previously tensioned is considered to
be  a  used  belt  and  should  be  tightened  to  from  245  to  311
Newtons (55 to 70 lbs.) A belt that has never been tensioned
is considered to be a new belt and should be tightened to 445
Newtons (100 lbs.).
Place Belt Tension Gage SE-2312 or equivalent, midway
between the pulleys on drive belt being checked.
BELT ADJUSTMENT
When  adjusting  a  power  steering  pump  belt,  never  pry
against the pump reservoir or pull against the filler neck.  To
increase   belt   tension   move   the   pump   outward   by   prying
against  the  bracket  pry  lugs  or  against  the  pump  housing
casting extension directly behind the pump drive pulley.
1.
When power steering pump is driven by a single belt:
a.
Loosen the pump attaching bolts and adjust the belt
to   correct   tension   by   moving   the   pump   outward,
away from the engine.
b.
Snug all pump mounting bolts and remove pry bar.
c.
Tighten all pump mounting bolts to specified torque.
d.
Check belt tension.
2.
When the power steering pump is driven by two belts in
a matched set:
a.
Follow same checking and adjusting procedure as 1
above, but if it is necessary to replace one belt, both
must be replaced by a new matched set to equalize
belt  tension  in  both  belts.    Check  tension  in  both
belts.
3.
When the power steering pump pulley is driven by one
primary  belt  and  is  used  as  an  idler  for  a  second  belt
driving some other accessory:
CTS-2296R  Chapter 1, Page 5
PRINTED IN UNITED STATES OF AMERICA