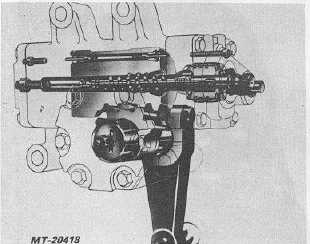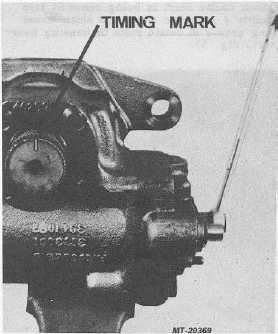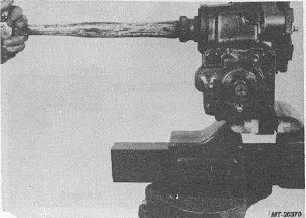 TRUCK SERVICE MANUAL
TM 5-4210-230-14&P-1
STEERING GEAR
DESCRIPTION
This steering gear (Fig.  1) is a fully integral power
steering  unit  incorporating  a  hydraulic  control  valve,  a
hydraulic     power     cylinder     and     a     manual     steering
mechanism into a single compact package.  The control
valve  is  a  rotary  design  which  combines  simplicity  of
construction  with  desirable  performance  characteristics.
Flow of oil from an engine driven pump is directed to the
power cylinder by the control valve.
Fig.  2
DISASSEMBLY (For callouts, refer to Fig.  1)
Thoroughly    clean    off    all    outside    dirt    before
disconnecting   hoses.      (Port   holes   should   be   plugged
immediately    after    disconnecting    hoses    and    before
removing from the vehicle.)
All parts should be cleaned in clear, clean solvent
and  blown  dry  with  air.    Keep  each  part  separate  to
avoid nicks and burrs.
IMPORTANT
Avoid wiping valve parts with cloth, as lint may
actually    cause    binding    and    sticking    of    the
closely  fitted  parts.  Never  steam  clean  or  high
pressure
wash
hydraulic
steering
gear
assemblies.  Do not force or abuse closely fitted
parts, as damage may result.
1.  
Position steering gear in a vise with worm shaft
(17) in a horizontal position.  Check timing mark
located on end of sector shaft (50), position this
mark in vertical direction with steering gear in
center of steering gear travel.
Fig.  3
2.  
Remove any paint or corrosion from serrated end
of sector shaft (50) and loosen jam nut (59) on
sector shaft adjusting screw (51).
3.  
To drain steering gear fluid remove six "special
ring head" bolts (61) from side cover (58).  These
bolts have a special ring located on bolt head for
sealing purposes, if these bolts are replaced, they
must be replaced with same "special" type and
length of bolt.
4.  
Remove side cover (58) and sector shaft (50).  A
soft hammer or wooden handle may be used to
remove sector shaft (Fig.  4).
Fig.  4
CTS-2717  Page 3
PRINTED IN UNITED STATES OF AMERICA