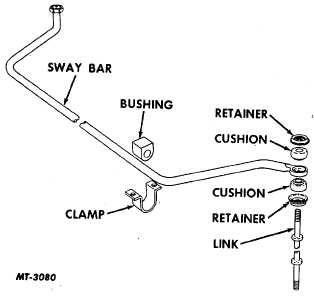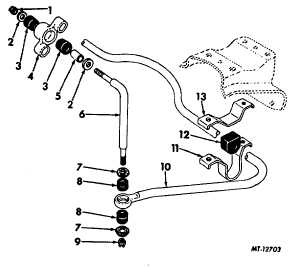 TRUCK SERVICE MANUAL
TM 5-4210-230-14&P-1
Fig.  7  Front Sway Bar
Fig.  8.  Rear Sway Bar
Legend for Fig.  8
Key
Description
1
NUT
2
WASHER
3
BUSHING
4
BRACKET
5
SPACER
6
LINK, Sway Bar
7
RETAINER, Cushion
8
CUSHION
9
NUT
10
SWAY BAR
11
BRACKET
12
BUSHING
13
BRACKET
Sway bars are available for both front (Fig.  7) and
rear (Fig.  8) suspension applications.
Simple  in  construction,  these  bars  perform  their
stabilizing   effect   by   twisting   when   spring   height   at
opposite  wheels  becomes  unequal.  For  example,  if  the
wheel on one side drops into a chuck hole, the spring on
that same side expands.  At the same time the sway bar
tends  to  expand  the  opposite  spring  and  lift  the  truck.
Failing to do this, the bar twists and lessens the shock of
the wheel dropping.
In  like  manner,  if  the  wheel  on  one  side  hits  an
obstacle, the spring on that side compresses.  The sway
bar tends to compress the opposite spring and hold the
truck  down.  Failing  to  do  this,  the  sway  bar  twists  and
lessens  the  shock.    This  resistance  to  twisting  in  the
sway  bar  is  particularly  useful  in  limiting  sway  or  roll
when the truck is rounding a curve or when it suddenly
encounters a strong cross wind.
No  service  is  necessary  on  the  sway  bar  other
than  a  periodic  inspection  to  see  that  mounting  parts
remain  secure.    Rubber  bushings  should  be  replaced
when they become deteriorated or permit metal to metal
contact.  Keep mounting bolts tight.
CTS-2680S  Chapter I  Page 6
PRINTED IN UNITED STATES OF AMERICA