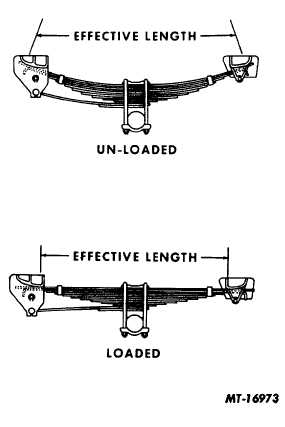 TRUCK SERVICE MANUAL
TM 5-4210-230-14&P-1
As  the  spring  assembly  deflects  these  leaves  come  in
contact providing increased capacity and stiffness.
Fig. 5  Progressive Spring Assembly
MAINTENANCE
Lubrication
For    lubrication    intervals,    refer    to    Operator's
Manual.  For types of lubricants recommended, refer to
LUBRICATION, Section CTS-2412.
SERVICING
Although    the    exact    servicing    procedures    are
different  for  each  type  of  spring  assembly  and  spring
assembly  application,  the  basic  procedures  are  similar.
The following is a general outline for servicing all spring
assemblies.
Removal
1.  
Place floor jack under truck frame and raise truck
sufficiently to relieve weight from spring to be
removed.
2.  
Remove shock absorbers where used.
3.
Remover   U-bolts,   spring   bumper   and
retainer or U-bolt seat.
4.  
Remove
lubricators
(not
used
on
springs equipped with rubber bushings).
5.  
Remove  nuts  from  spring  shackle  pins
or bracket pins.
6.  
Slide spring off bracket pin and shackle pin.
7.  
If spring is rubber bushed, bushing halves may be
removed from each side of spring and shackle
eye.
Installation
Before reassembly, all shackle bolts, U-bolts, etc.
should be cleaned and lubricated for proper installation.
While  the  actual  installation  procedures  will  vary
with each spring type, the pivot end of spring is usually
fastened  to  frame  bracket  first.    Shackle  end  can  then
be fastened by aligning shackle to other frame bracket.
When  installing  U-bolts  for  securing  axles,  do  not  final
tighten   until   springs   have   been   placed   under   normal
load.          See     TORQUE     CHART     for     U-bolt     torque
specifications.  Spring  failures  may  occur  at  the  center
bolt hole if U-bolts become loosened.  These bolts must
be kept tight and checked frequently. Spring pins should
also be checked periodically.
Disassembly
1.  
Clamp spring end in vise and remove old bushing
from spring eye.
2.  
Reposition spring in vise so that assembly will be
clamped near center.
3.  
If bolted type rebound clips are used, remove
nuts, bolts and spacers; where clinch type
rebound clips are used, bend tabs of clips up,
being careful not to break them. Heating clips with
torch will help avoid breakage.
4.  
Remove nut from spring center bolt.
CTS-2680S  Chapter I  Page 4
PRINTED IN UNITED STATES  OF AMERICA