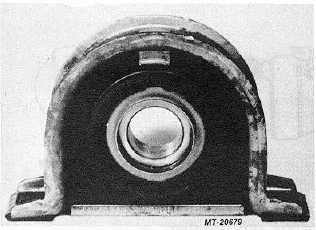 TRUCK SERVICE MANUAL
TM 5-4210-230-14&P-1
PROPELLER SHAFT
CENTER BEARING
Fig.  46
GENERAL
Center bearings (Fig.  46) are provided to support the
propeller   shaft   assembly   and   to   smooth   out   the   power
delivered to the rear axle assembly.
Loose    center    bearing    assembly    mounting    bolts
should be tightened.  Deteriorated or oil soaked center bearing
insulators  should  be  replaced.    These  conditions  can  cause
excessive drive line vibration if not corrected.
BALL BEARING TYPE
Description
The center bearing used on some vehicles utilizes a
ball bearing with the bearing housing enclosed in rubber.
No lubrication for 'this center bearing  is  provided  as
the   bearing   is   filled   with   a   waterproof   grease   for   life   of
bearing. REMOVE
1.
Set parking brake.
2.
Disconnect  rear  propeller  shaft  assembly  (universal
joint) at center bearing.
3.
Remove   companion   flange   nut,   then   remove   the
yoke assembly.
4.
Remove  the  center  bearing  bracket  mounting  bolts
and  separate  center  bearing  mounting  bracket  with
bearing    from    center    bearing    bracket    (on    frame
crossmember). 5.  Remove center bearing assembly
and both slingers from stud shaft.
6.
The    center    bearing    is    serviced    as    a    complete
assembly, therefore separating the "U" shape bracket
from rubber cushion is not required.
REASSEMBLY
The  reassembly  procedure  is  the  reverse  of  the  disassembly
procedure.  Be sure to inspect the center bearing bracket (on
frame crossmember) for damage.
CTS-2730  Page 24
PRINTED IN UNITED STATES OF AMERICA