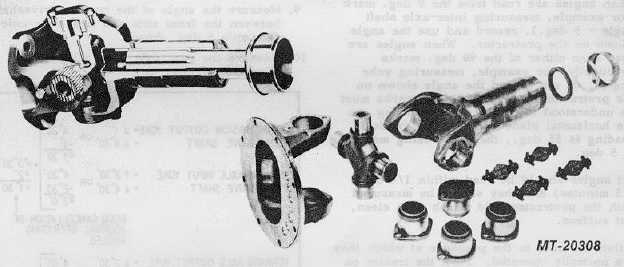 TRUCK SERVICE MANUAL
TM 5-4210-230-14&P-1
PROPELLER SHAFT
INSTALLATION
Fig.  42
UNIVERSAL JOINT PHASING (See Fig.  37)
When u-joints or yokes are assembled to their shafts
in   the   same   plane,   they   are   in   phase.   When   they   are
assembled  to  the  shaft  in  different  planes,  they  are  out  of
phase.  To obtain vibration free operation, check the following.
1.
Yokes   or   flanges   between   the   main   and   auxiliary
transmission must be "In Phase"
2.
In the case of a two-piece driveshaft assembly,
between the transmission (Main or
Auxiliary) and the forward rear axle, the joints on this
shaft should be assembled "In Phase", unless
otherwise specified by the manufacturer of the
vehicle.
3.
The inter-axle driveshaft yokes must be "In Phase".
4.
If    a    vehicle    has    driveshafts    that    do    not    have
intersecting angles but parallel angles throughout the
drive line system, the yokes or flanges must be held
parallel to within 1 deg.  of each other.
CTS-2730  Page 21
PRINTED IN UNITED STATES OF AMERICA